Thousands of people poured onto the tarmac of Kabul's international airport, desperately seeking a route out of Afghanistan today after the Talibans seized power.
This sparked a chaotic Western withdrawal and brought to a crashing end the United States' two-decade mission in the country. Commercial flights at Hamid Karzai International Airport have been canceled, but footage there showed people desperate, trying to force their way onto any airplane leaving the city last Sunday night and today.
Some were even hanging to the sides of military aircraft with their bare hands as the planes taxied the runway. Their pleas come as the US, the United Kingdom and other nations mount a hurried evacuation of embassy staff and nationals.
The US military is guarding a section of the airport, but its embassy in Kabul warned American citizens and Afghans not to travel there unless otherwise told to do so. At a point, the US was forced to temporarily suspend its air operations, while troops tried to clear the airfield.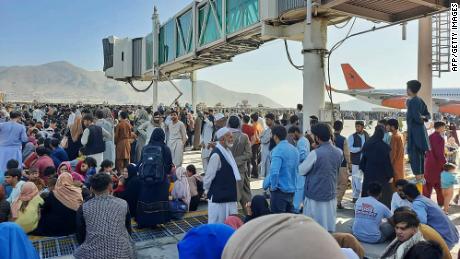 The sudden arrival of chaos in Kabul has taken many by surprise. US intelligence analysts had predicted it would likely take several more weeks before Afghanistan's civilian government in Kabul fell to Taliban fighters. But on Sunday, after encroaching toward the city, the militants took control of the presidential palace and Afghan President Ashraf Ghani had to flee the country.
Afghans are now waiting for reports of what kind of regime they will live under. Taliban spokesman Suhail Shaheen told reporters on Sunday that an announcement about the make-up of a new government will take place "as soon as possible," but it would be "premature" now to name who will be included.
The War in Afghanistan from 2001 till present took place after the U.S invasion, the main conflict consisted of Afghan Army troops, backed by additional United States troops, fighting against insurgents of the Taliban and sporadically other groups as well.